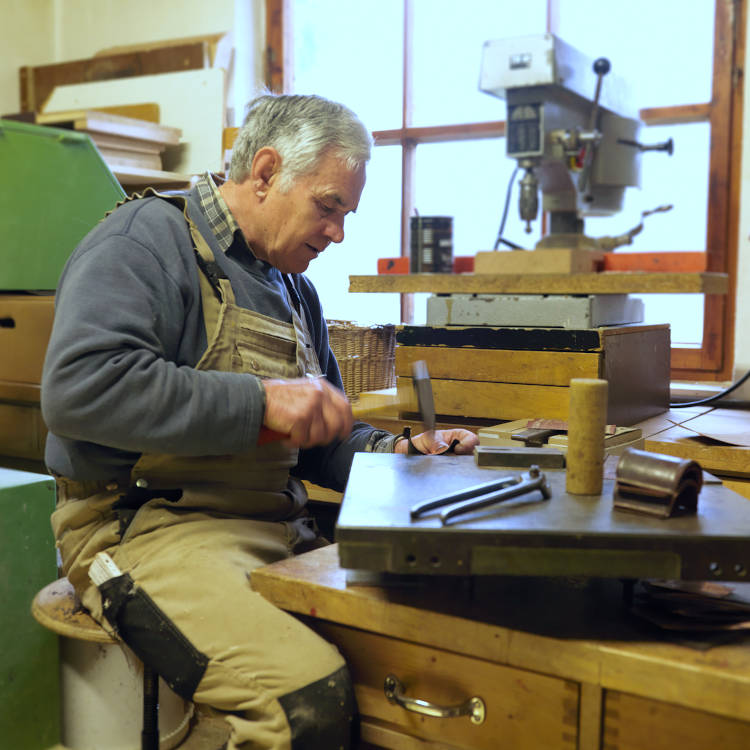 Family Business VAH
"Class instead of mass!" - that's our motto.
At the confluence of the original Danube valley and the Altmühl-valley Dollnstein is situated in a picturesque bowl. There Dominic Vah's medieval armoury can be found. The Vah wood-working company has been a family business for 35 years and employs 15 people. In 2002 the young master joiner took over the business from his parents, Amalia and Albert Vah. By reason of a successful alliance of traditional handicraft and innovative ideas artisanal objects arose with attention to detail for all those which like to experience the joy of history.
Finest handwork
Sustainably produced
Highest quality
Careful use of the environment and resources has always been important to us. That is why we mainly process beech wood from sustainably managed local forests. Wherever possible, we do without plastic packaging right from the start.
MADE IN GERMANY
Almost all of Dominic Vah's goods are self-made products and are of course 'Made in Gemany'. In order to guarantee quality, goods are produced on site using local raw materials and made by highly motivated employees. In the selection of all materials, attention is paid to optimal comptability with health and environmental standards, as well as to the highest standards of technology. Dominic Vah pays special attention, for example, to the use of absolutely harmless dyes (sweat and saliva resistant) in accordance with DIN EN 71. The knight toys are in fact checked by the Bavarian State Certification Agency (LGA) and distinguished by the CE testing stamp. Quality not quantity! Such is the motto in manufacturing: the highest quality and a love of detail still guarantee successful handcraft. However, what is and remains excellent and poignant in all of this is that the enjoyment of handcraft can, in this way, be passed on to people through the final product!
Download Links
All of our photos, logos and marketing materials can be downloaded here